Batch Image Converter
Convert thousands of pcitures and photos to / from 30+ different image formats!
Convert between
30

+ Image Formats

Raw, jpg, j2k, png, gif, bmp, tiff, tga, dds, psd…
Resize, Resample, Crop, Rotate, Flip Images
5 ways to crops, 20 resampling modes
Built-in Face Detection
Auto-rotate & crop photos based on face position
Add dynamic text & picture watermarks

40

+ Blend Modes, tiled watermarks, custom formatting
130

+ Actions, Filters, and Effects

Convert, watermark, adjust brightness, contrast…
How Batch Image Converter Works
Choose Processing Mode and Select Images
Batch Image Converter can process files in 3 distinct modes:
Manual Mode - images are selected for processing, which is then started manually by clicking on the Start button
Automatic / Background Mode - "monitors" are setup that scan specified folders for either existing, new, or modified images matching criteria, which are then automatically processed once the program starts "monitoring"
Scheduled / Triggered Mode - processing is performed by processing jobs that can run on schedule or be started on specified events
In Manual mode images for processing can be selected and added to the processing list in multiple ways:
One by one or in groups
All from a given directory
Recursive searching for files with names matching a pattern
Recursive searching for images with specific properties like width, height, color depth, meta-data, format
Drag & drop from Windows Explorer
Paste from clipboard, paste paths
Import from text-based file containing paths
Right-clicking on selected images or folder in Windows Explorer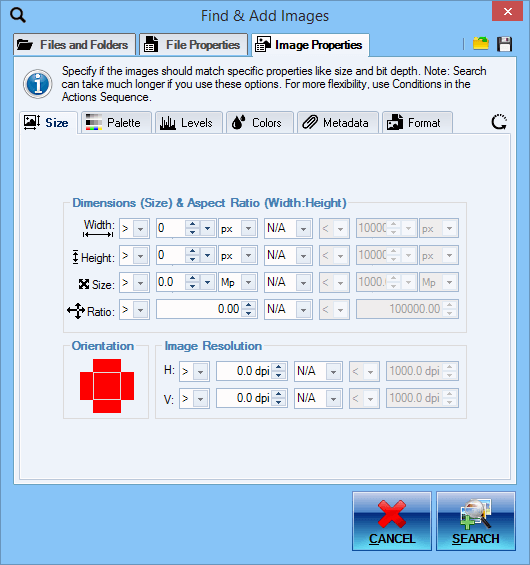 Specify Actions to Perform
You specify which actions and operations should be performed, which filters should be applied during processing by using an Action Sequence.
Specify which actions should be performed and in what order by simply drag & dropping them.
Then you can specify various options and settings for each action to specify exactly how the action should process your images.
Perform certain actions only when specific requirements are met using conditions
Perform actions only on specific pixels or regions using layers
Save action sequence for future use as a template
The hierarchical structure is clearly displayed if conditions are used
Get instant feedback about any errors
Actions are color-coded to help you distinguish different types of actions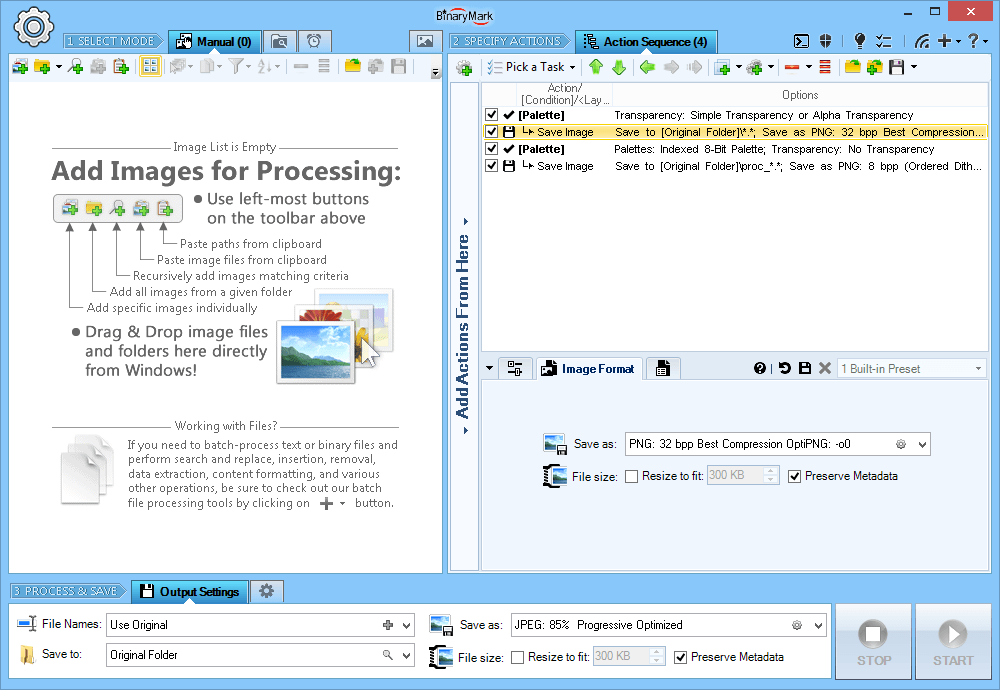 Step 3 - Select Output Format, Process, and Save
In the last step you choose the destination directory where processed images will be saved; file naming pattern; image file format; and some other processing options.
Use both relative and absolute paths when specifying output location.
Specify very detailed file naming pattern: use file attributes, random characters, hashes, meta-data, and more!
Adjust file dates and attributes
Set backup and other options
When you have configured all the output options, the program can start processing images. As it processes images, image list will be automatically updated reflecting detailed progress. Processing can be stopped any time.
When an image has been processed, its preview in the list is automatically updated, and any changed attributes like size will be shown in bold next to its thumbnail, making it easy to identify changed properties.
At the end the program will display a detailed summary; a processing log will also be available so you can examine any warnings or errors if they occurred.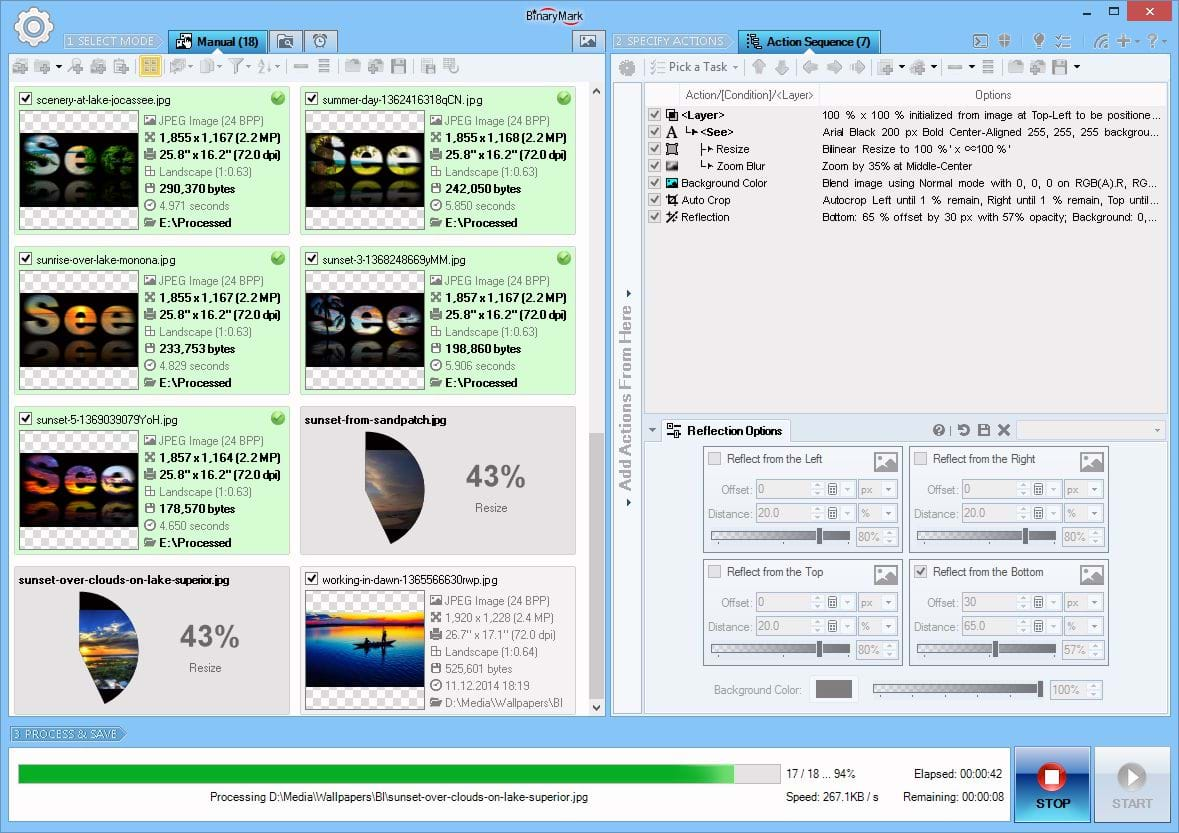 Top Features
4 Processing Modes Manual, Automatic / Continuous, Triggered / Scheduled, Command Line.
130+ processing actions: brightness, contrast, levels, curves, watermark, resize, crop, convert, remove noise, rotate, etc.
30+ Image Formats: read 32 and write 18 different image file formats.
Conditional Processing lets you perform different operations with different images.
Layers let you perform actions within image regions, on specific pixels/hues/colors, and on watermarks.
Face Detection lets you perform different operations on images with recognized human faces: for example you can auto-rotate those images so that the face is upright.
Live Preview makes it easy to see how the processed images will look like after processing.
Advanced File Naming and Renaming: use file properties, image attributes, random characters, EXIF tags, perform search and replace.
Advanced Image Search: advanced wildcards, image attributes, file properties, regular expressions, search within pixel data.
Very detailed processing logging capabilities.
Fast multithreaded processing that can utilize all available cores/CPUs.
Run multiple program instances simultaneously.
Batch Image Converter Customization & Extensibility
Although by itself Batch Image Converter is a professional product, it cannot possibly offer every feature you may want, or be used in all possible scenarios. This is not a problem however, because this product was built with extensibility in mind from the ground up.
The functionality offered by Batch Image Converter can be extended in the following ways:
Software Development Kit (SDK) will let you develop your own actions and conditions that can be directly used by the product just as built-in ones. All that is required is basic knowledge of either C# or VB.NET and Microsoft .NET Framework 3.5 or higher.
Actions Library will let you use all the various processing actions together with their UI in your own projects. Library is provided as a COM-Compatible .NET DLL that you can use in your own projects to leverage the functionality offered by the various processing actions.
Custom Development - should you need it, we can customize the product for you so it specifically meets your needs. Batch Image Converter provides a solid foundation for batch file processing upon which our experienced developers can quickly create a customized, professional solution that meets your needs.
Software Development Kit (SDK)
You can easily extend functionality offered by Batch Image Converter' built-in actions by designing your own using this SDK as a guide. Batch Image Converter provides all the basic actions that perform general tasks, such as resize, crop, watermark, etc.; however you may have a need to process images in a specific way, and hence require custom actions.
With this SDK and basic VB.NET or C# programming skills you will be able to create your own custom actions that you can then use from within the program to effectively accomplish your goals. We recommend you use Microsoft's free Visual Studio Community to develop your extensions using this SDK, but of course if you have Visual Studio, SharpDevelop IDE, or any other IDE capable of producing .NET 3.5 libraries, you can use it as well.
Actions Library
Actions Library is provided as a COM-Compatible .NET DLL that you can use in your own projects to leverage the functionality offered by the product's various processing actions. Whereas with SDK you extend the product with the actions you create, with Actions Library you extend your own solution by utilizing the functionality of the product.
For example, if you want to use image processing capabilities offered by Batch Image Converter, with the Actions Library you will be able to do just that.
Actions Library needs to be acquired separately from the main product. So, please contact us to get Actions Library. We will also be happy to answer any questions you may have regarding licensing, pricing, integration, and other issues.
Let Us Customize Batch Image Converter for You!
If Batch Image Converter is not exactly what you are looking for, we can customize it for you so it specifically meets your needs! It can be done at a low cost to you, as Batch Image Converter provides a solid foundation upon which new features can be effectively added by our experienced developers to quickly create a customized, professional solution that meet your needs!
Keep in mind that contracting us to customize the product will be much cheaper and faster than hiring a programmer or doing the work with your own resources, as we have extensive experience in the area of custom development, and what's more - Batch Image Converter is a solid foundation upon which all the extra functionality that you desire can be built. More than 10 000 man-hours and over 100 000 lines of code went into the creation of Batch Image Converter, so recreating even part of its functionality from scratch would require lots of resources.
Do you need customization?
The product does not exactly meet your needs?
Some feature you would like to use is not in the product?
Would you like to add another action or operation?
Need more options and customizations?
Want to integrate the product with your existing business logic?
Custom Development Benefits
No programming skills are required - we do everything for you!
Low-cost professional development by experienced team
Fast development because it leverages existing product and infrastructure
Professional User Interface and familiarity as new features are integrated into existing product
Royalty-free, flexible licensing model