Blogspot & Tumblr Image Downloader
Automatically save images and photos from Blogger & Tumblr with friendly names!
Easily save
1000

s of images, photos & videos from Blogger / Tumblr blogs
Download and save embedded videos in addition to images!
Download images within a specific date range or with specific labels and tags
Downloads are saved into proper folders with correct names based on post and topic titles
Save pictures and photos you like from blogs to your computer before they are removed!
Easy to use: paste the URL of a blog post, set the date range or the labels, and the program will do the rest!
How Blogspot Image Downloader Works
Copy-paste blog's URL into the program
Simply copy and paste the URL of any blog page from a blog whose pictures you wish to save.
Additionally specify the primary folder where all the downloaded images should be put. In that folder, the program will then create a subfolder for every blog from which you will be saving images. Thus all the downloaded photos and images will be well organized into folders by blog names, and additionally by post titles within the blog folders.

Specify which images you wish to download
You can download images in 2 ways. You can specify a particular date range, and then the program will search for all blog posts within that date range and download images from those posts.
Alternatively you can specify a list of labels, or tags, and the program will search for any posts containing those labels, and will download photos only from matching posts.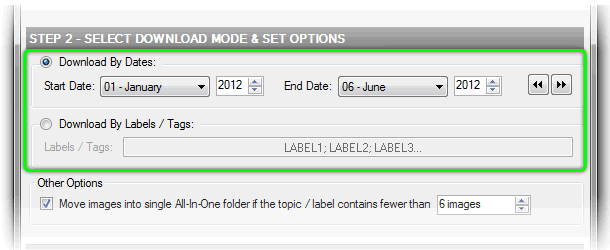 Let the program begin downloading images
When you have set all the options and selected desired download mode, click Start and the program will begin scanning all matching blog posts for images and saving all found images.
The program is intelligent enough to download only right images that actually belong to the post, and save those images under correct titles, according to the blog post's topic or title. If available, the program will automatically get high-quality versions of images, ensuring clear and crisp display when you view them. It also automatically organizes images into proper folders.
The program download photos and images automatically and there is no need to do anything on your part! Simply let it run for some time, and it will save all the images it could find.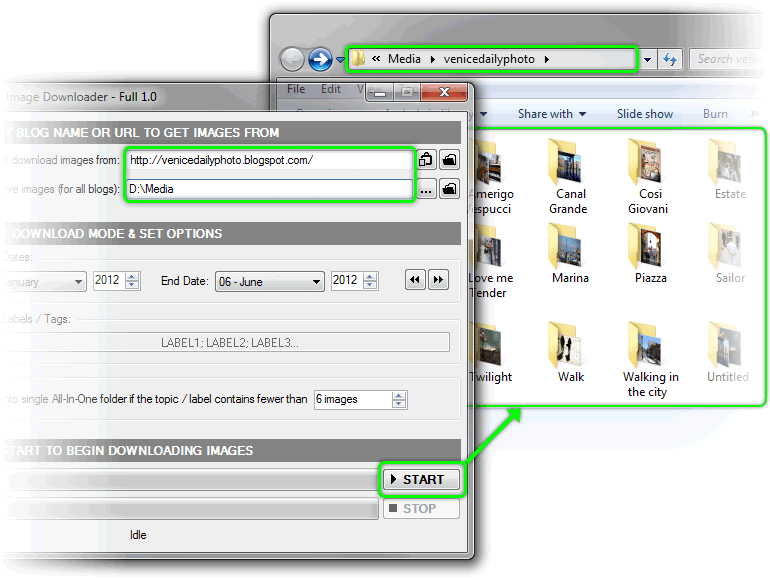 Why Save Images and Photos in the First Place?
The reason is simple. The Internet is changing every second: websites come and go, blogs may disappear, content may be removed. So if you come across web content of interest, like images for example, it's always a good idea to save what you like right away. This way, you can be sure, that no matter what happens to the website or blog where you got those images from, they will always be available!
Ok, But Can't I Save Images Myself?
Sure you can save photos and images from blogs yourself! The problem is that it requires time, and quite a lot of time at that, especially if you wish to save a large number of images. For a few dozen images this approach may work, but what if the blog contain hundreds or even thousands of images? Now saving them manually becomes a daunting task!
That is where Blogspot Image Downloader can help. It automatically downloads images you specify and does so much faster than you can! And what's is great about Blogspot Image Downloader is that it names the images that it saves in a smart way, adding the title of the post where they were fetched from to the images' file names!